Ever noticed your cat using her paw to scoop up food? This behaviour is called "pawing" and it's something that cats have been doing for centuries. Pawing isn't limited to certain cats; it's actually a habit that has been passed down through generations of felines.
But why does your cat do this? Is it something wrong with her? The answer may be surprising. Cats use their paws to catch prey, scoop up food, or even drag food closer to them if it's out of reach. It helps them get the most out of their meals by breaking off smaller pieces of food that are easier to swallow or chew.
In addition, some cats may paw as a way to express affection towards their owners. They might be attempting to share a dish with you or give you something special from their plate by bringing food close to their paws.
So if your cat is using her paw at mealtime, don't worry – she's just being her normal self.
Portion Control: How Does Paw Eating Help Cats with Their Food Intake?
This is a common behavior among cats, and it can be beneficial for their health and wellbeing.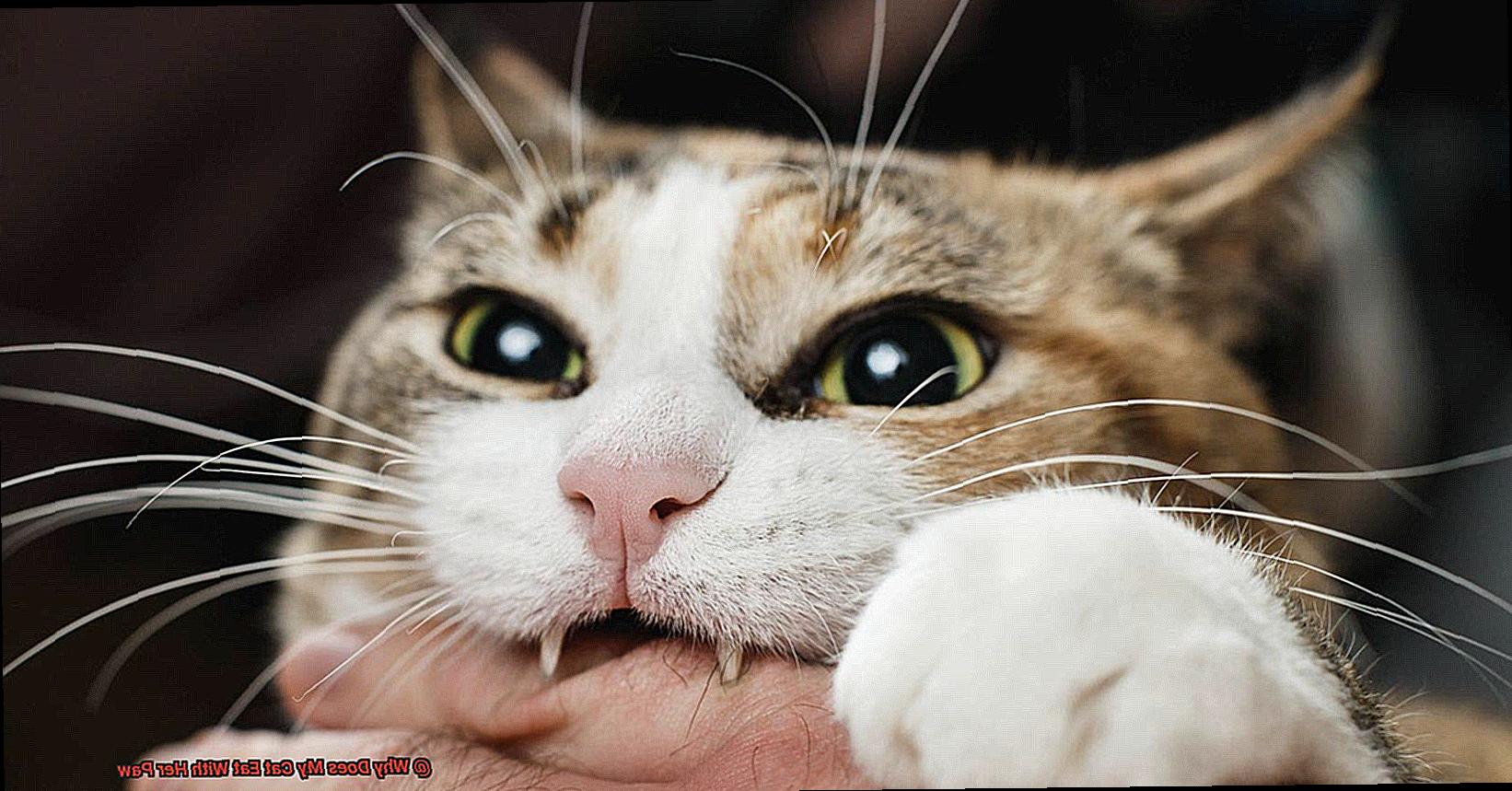 Paw eating allows cats to take smaller bites and eat at a slower pace, helping them monitor the amount of food they consume. This can help prevent overeating, especially in cats that are overweight or have digestive problems. In addition, paw eating gives cats a sense of satisfaction and control over their food, which can reduce hunger and anxiety.
Cats may also be tapping into their instinctual behavior when they use their paws to eat. In the wild, cats may use their paws to catch and hold onto their prey while eating. Domestic cats may be doing the same with their food bowl.
Moreover, some cats simply prefer to eat with their paws. They may find it simpler or more convenient to pick up and hold onto food with their paws rather than using their mouth. Cats also have sensitive whiskers that can be easily aggravated by the sides of the food bowl; using their paw to scoop food out of the bowl prevents this irritation.
Whether it's for portion control, instinctual behavior, or individual choice, knowing your cat's eating habits will help you care for them better.
Instinctual Behavior: Is Paw Eating a Wild Cat Habit?
Cats are mysterious creatures with many strange behaviors, one of which is the use of their paws to scoop food into their mouths – also known as paw-eating. This peculiar behavior is actually an instinctual trait that cats have inherited from their wild ancestors.
Wild cats had to be swift and alert to catch their prey, often having to eat while standing up to protect it from larger predators. To do this, they would use their paws to hold down the prey and tear off meat to eat.
This behavior has been passed down through generations of domesticated cats, who still exhibit this instinctive behavior today. Paw-eating isn't just limited to food either; cats may also dip their paws in water bowls and lick the water off them, a habit that can be traced back to their wild instincts for safety and security.
Individual Preference: Do Some Cats Just Prefer to Eat with Their Paws?
The answer is yes. Cats are beloved by their owners for many reasons – from their unique personalities to their quirky habits. One of the most interesting behaviors that cats can exhibit is eating with their paws.
This behavior may appear strange at first glance, but there are several explanations for why some cats choose to eat with their paws. For some cats, it's simply a matter of personal preference; they may find it more comfortable or enjoyable to pick up and hold portions of food with their paws rather than using only their mouth.
Other cats may be attracted to the tactile sensation of digging into their food with their paws, especially if they have a strong prey drive.
Additionally, some cats use this method to gauge the temperature and texture of their food or take a break from eating and paw at it from time to time.
In certain cases, cats may also use their paws to manipulate the shape and size of food. They might break off small pieces with their paws or flatten food for easier consumption.
Furthermore, cats who prefer eating with their paws may have a medical condition like a dental problem or sore mouth that makes it difficult for them to eat in the usual manner.
Comfort: How Can Using the Paws Make Eating Easier for Your Cat?
Paw-eating is a surprisingly common behavior among cats, though it may seem a bit strange. In fact, there are several reasons why cats choose to eat this way, ranging from personal preference to medical needs.
For instance, using the paws to eat can make it easier for cats to grip food and take bites. This is especially true for wet foods, as picking up with the tongue alone can be tricky.
Additionally, paw-eating allows cats to assume a more natural posture when eating; unlike humans who hunch over their food, cats prefer an upright position. Older cats or those with mobility issues may also find it easier to sit and use their paws while eating.
Whisker Sensitivity: Does Using the Paws Help Avoid Irritation of Whiskers?
This could be a sign of whisker sensitivity, an important part of a cat's eating habits. Cats use their whiskers to feel their environment and can become easily irritated if their whiskers come into contact with something uncomfortable or painful, such as the sides of a narrow food bowl.
Cats have devised an effective way to avoid this discomfort: using their paws to scoop food out of their bowls. By using their paws, cats are able to control the food and ensure that their whiskers remain untouchable. This behavior also mimics the act of hunting prey, which is an instinctual habit for cats.
Not all cats use their paws for this reason; some simply prefer to eat with them, while others take food out of the bowl and eat it on the floor or a nearby surface.
Whisker sensitivity can vary from cat to cat, so it is important for cat owners to pay attention to their pet's individual preferences and take steps to ensure comfort while eating.
Socialization: Could Paw Eating be a Sign of Stress or Anxiety in Your Cat?
Although it may seem strange, it's actually quite common and can be a sign of stress or anxiety in cats. Paw eating is a behavior that cats may use to self-soothe or cope with changes in their environment. It's important to pay attention to your cat's behavior and identify any potential stressors that could be causing them distress.
In some cases, paw eating could also indicate that your cat is seeking attention or affection from you. If this is the case, try giving them more love and playtime to help reduce their anxiety.
However, it's important to note that excessive paw eating could also be a sign of an underlying medical issue. If your cat is displaying unusual behaviors, such as paw eating, it's best to consult with a veterinarian to rule out any health problems.
Training Tips: How Can You Teach Your Cat to Eat With Her Paws Appropriately?
Cats are naturally neat animals and often use their paws as a tool to move any unwanted materials out of their bowls. Additionally, cats may also use their paws to scoop out food and eat it separately, mimicking their hunting instincts. Understanding these reasons will help you properly care for your furry friend. Establishing a Positive Relationship With Feeding Time

Teaching your cat to eat with her paws appropriately requires patience and consistency. Start by placing the food bowl in a quiet and less traffic area, encouraging her to sit near the bowl while you are filling it. This will help create a positive association with the food and feeding time.

Redirect Your Cat's Mouth

When your cat starts to use her paw to scoop food out of the bowl, gently redirect her to use her mouth instead. You can do this by holding her paw down and placing some food in her mouth. Initially, your cat may resist the idea of using her mouth, but with patience and encouragement, she will eventually learn to eat without using her paws.

Healthy Feeding Habits

To avoid any unwanted behavior, it is crucial to have a clean and well-maintained feeding area for optimal sanitation. Keep the feeding area free from any debris or food particles and wash the bowl regularly with soap and water.

Reward Good Behavior

Positive reinforcement is key to successful training when teaching your cat how to eat with her paws appropriately.

Health Considerations: What are Some Potential Health Concerns Associated With Paw Eating?

Paw eating is a common behaviour among cats, but it is important to be aware of the potential health risks associated with this activity. While pawing can be beneficial in certain situations, such as helping cats determine portion size or tapping into their instinctual habits, it can also lead to health problems if not monitored closely.

For example, cats that eat with their paws may ingest dirt, debris, or bacteria that can cause gastrointestinal distress. If your cat is pawing and you notice signs of vomiting, diarrhea, or decreased appetite, it's best to consult with a veterinarian. Additionally, constant paw chewing may cause irritation and injury to the paws from sharp objects or rough surfaces.

Some cats may even develop skin allergies or infections after coming into contact with their food or litter box.

If you observe any troubling symptoms or persistent paw eating in your cat, it's best to schedule a visit with your veterinarian for an examination. To reduce the risk of paw-eating related health issues, your vet may recommend changes in diet and feeding habits.

Also Read: Why Does My Cat Eat With Her Paw? – 21Cats.org

Conclusion

Cats' paw-eating habit is an inherited trait from their wild ancestors. It helps them monitor portion size, express affection to their owners and tap into their natural behaviors. Plus, cats may find it more convenient and enjoyable to grab and hold food with their paws instead of using their mouth.

However, there are potential health risks associated with paw feeding that pet owners should be aware of. If your cat is persistently chewing or displaying signs of vomiting, diarrhea, or decreased appetite, it's best to consult a veterinarian for an examination.

To minimize the risk of paw-related health problems, provide a clean and well-maintained feeding area for your cat and make sure they have access to fresh water and nutritious food.

If you want to teach your cat how to eat with her paws properly, start by building a positive relationship with feeding time and use praise when she does something correctly.