Are you on the hunt for a new feline companion? If so, you may have come across the stunning Russian Blue cat with their signature silvery-blue coat and piercing green eyes. But before you fall head over heels for this breed, it's important to consider how much they are worth.
The price of a Russian Blue cat can vary greatly depending on several factors such as age, gender, location, and breeder reputation. While some may be available for as little as $400, others can cost upwards of $2,000 or more. But don't let the price tag intimidate you – a well-bred and healthy cat can bring years of love and happiness.
In this blog post, we'll delve into the various factors that contribute to the cost of a Russian Blue cat. We'll also provide tips on how to find a reputable breeder to ensure that your furry friend is healthy and happy from day one.
So, if you're curious about how much a Russian Blue cat is worth or simply looking to add one to your family, keep reading.
What is a Russian Blue Cat?
Russian Blue cats are a beloved breed of domestic cats known for their striking appearance and affectionate personalities. These elegant felines have a stunning blue-grey coat, bright green eyes, and a muscular build that weighs between 7-12 pounds. Their plush, dense coat is soft to the touch, and their distinctive wedge-shaped head and large ears make them instantly recognizable.
Originating in Arkhangelsk, Russia, Russian Blue cats were originally brought on ships by sailors to catch rodents. They later became popular as pets and were recognized by cat fanciers in England in the late 1800s. The breed was then imported to the United States in the early 1900s, where it quickly gained popularity.
Russian Blue cats are known for their gentle and affectionate temperament. They make great companions for families and individuals alike. Their intelligence and curiosity often lead them to learn tricks and even play games of fetch with their owners. Due to their desirable personality traits, Russian Blue cats are a popular breed among cat lovers worldwide.
When considering the worth of a Russian Blue cat, several factors come into play. One of the most important factors is pedigree. Cats from well-known and respected breeding lines will often command a higher price than those that do not. Age and gender also play a role, with younger females being more expensive due to their ability to have kittens.
Physical condition is another critical factor in determining worth. Healthy, well-groomed cats free from any genetic or health issues will generally be more valuable than those that are not. Additionally, cats with unique or rare features, such as large ears or an unusual coat pattern, may also be worth more.
Location can also impact the value of a Russian Blue cat. In some areas, these cats may be more popular than others, which can drive up their price. Finally, purchasing from a reputable breeder or pet store may come at a higher price point than buying from a private seller.
Factors That Affect the Worth of a Russian Blue Cat
If you're looking to buy or sell a Russian Blue cat, you may be wondering about the factors that determine their worth. As an expert on the topic, I can provide you with valuable insights into the key factors that can impact the value of a Russian Blue cat.
Firstly, age is a significant factor to consider. While kittens are often in high demand and therefore more expensive than adult cats, older cats with good health and temperament can still be worth a lot. However, it's important to note that the younger the kitten is, the higher the price it can command.
Pedigree is also crucial in determining the worth of a Russian Blue cat. These cats are selectively bred for specific traits and characteristics, and those with a strong pedigree are often more valuable. They may also have unique features that make them stand out from others, which can increase their value even further.
The color of the cat's coat is another important factor to take into account. While all Russian Blue cats have a blue-gray coat, some may have variations in color intensity. Cats with a more uniform and vibrant coat color are generally worth more than those with less intense shades.
Gender can also play a role in determining a Russian Blue cat's value. Female cats are often more expensive because they are often used for breeding purposes, while male cats are generally less expensive because they cannot reproduce.
Finally, location can also impact the worth of a Russian Blue cat. The demand for these cats may differ between regions or even countries, which can affect their prices. Purchasing a Russian Blue cat in a metropolitan area may cost more due to higher demand than purchasing one in a rural town.
Pedigree
Determining their worth can be a complex process, but one important factor to consider is their pedigree.
A pedigree is like a family tree for cats, providing information about their ancestors and lineage. For Russian Blue cats, having a champion bloodline can significantly increase their value. This is because a prestigious ancestry indicates desirable traits and characteristics that potential buyers may be seeking.
However, pedigree isn't just important for buyers. It also plays a crucial role in breeding programs. Breeders strive to produce cats with specific traits and characteristics, and having a solid pedigree with a long line of champions can increase the chances of producing desirable kittens.
It's essential to note that while pedigree is significant, it shouldn't be the only factor considered when determining worth. Other factors such as age, health, temperament, and physical appearance should also be taken into account.
In fact, a cat with an impressive pedigree but lacking in other areas may not be as valuable as a cat with exceptional qualities in these areas. So it's vital to consider all aspects when choosing the right feline companion for your lifestyle and preferences.
Age and Gender
First, let's talk about age. Generally speaking, younger cats are more expensive than their older counterparts. This is because they have more years of companionship to offer their owners. However, it's important to note that older cats may come with health issues or behavioral problems that can impact their value. Thus, it's essential to consider all aspects that affect their worth.
Moving on to gender, male Russian Blue cats are often more sought-after than females. This is because males tend to be larger in size and have a more muscular build, making them an attractive option for pet owners. Furthermore, male cats are usually more sociable and affectionate. But despite this trend, it's essential not to base a cat's worth solely on its gender.
Other crucial factors to consider when determining the value of a Russian Blue cat include breed purity, lineage, coat color, and eye color. These elements can also play a significant role in determining their price tag.
It's crucial always to do thorough research before purchasing a Russian Blue cat. Consulting with reputable breeders or pet stores can provide valuable insights into the various factors that affect their value. Ultimately, there are many pieces to the puzzle when it comes to determining the worth of a Russian Blue cat.
Physical Condition
As an expert on this topic, I can tell you that your potential pet's physical condition is of utmost importance when it comes to their value.
Let's start with their luscious coat, which is a hallmark of this breed. A Russian Blue cat's coat should be nothing short of perfection- short, dense, and plush to the touch. Any indications of matting or thinning can significantly decrease the cat's worth. A smooth, shiny coat is a testament to the cat's overall health and wellbeing.
Of course, physical health is another crucial factor to consider. While Russian Blues are generally healthy cats, it's essential to be aware of any genetic predispositions to certain health issues such as heart disease or bladder stones. A cat in excellent physical condition with no underlying health concerns will undoubtedly be worth more than one with medical issues.
Age is also an important factor to consider when evaluating a Russian Blue's physical condition. Generally speaking, younger cats will command a higher price due to their longer expected lifespan and potential for breeding. However, an older cat in excellent health and with an impressive pedigree could still fetch a premium price.
It's important to have a professional assessment from a veterinarian or breeder who specializes in this breed when evaluating your potential pet's physical condition. They can provide invaluable insight into any potential health issues or genetic concerns that may impact the cat's value.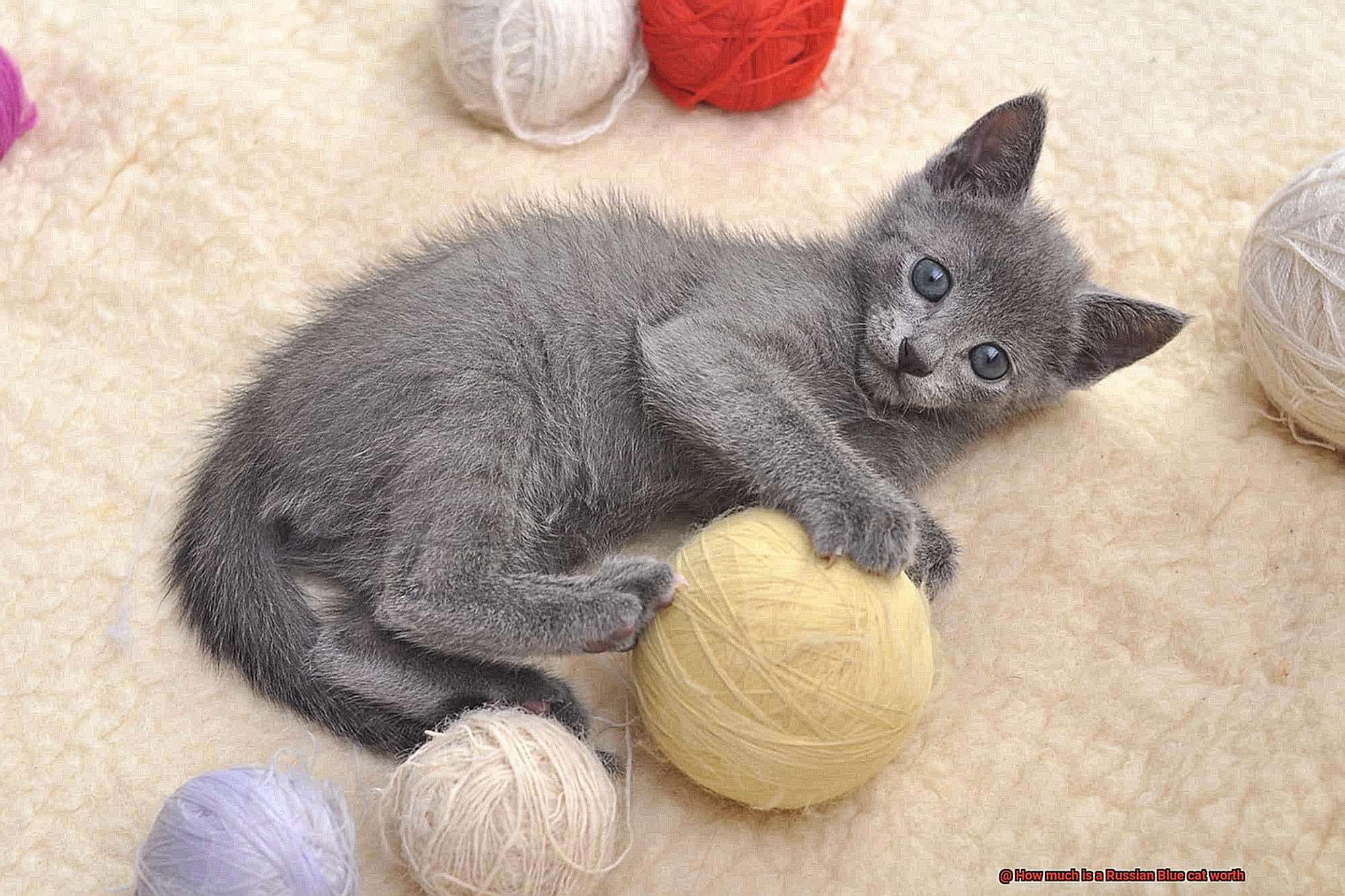 Location
Whether you're purchasing from a breeder or adopting from a shelter, it's essential to consider where you are located before making any decisions.
Here are some ways in which location can impact the value of a Russian Blue cat:
Urban areas vs. rural areas: The cost of living varies across different regions, and this can affect the price of your Russian Blue. You may end up paying more for a cat in a bustling city like New York than in a small town in the Midwest.
Regional demand: Breeders in areas with high demand for Russian Blues may charge more for their cats due to limited availability. If you live in such an area, expect to pay more for your furry friend.
Source of the cat: Purchasing from a reputable breeder who provides proper documentation, vaccinations, and health checks will cost you more than getting one from a pet store or backyard breeder. However, it ensures that you have a healthy and well-bred cat.
Adoption fees: Adoption fees for Russian Blues may vary by location. Shelters and rescue organizations may charge higher fees in areas with high demand for the breed.
Popular Breeding Lines for Russian Blue Cats
With their striking blue-grey coat, bright green eyes, and friendly disposition, these cats make wonderful pets. But did you know that there are different breeding lines of Russian Blues? Let's explore the characteristics of each line to help you choose which one is right for you.
First up is the Scandinavian line. Known for their shorter, compact body type and thick coat, these cats also have larger, rounded ears. They exude an aura of sturdiness and plushness that makes them perfect for those looking for a cat with a solid appearance.
The British line, on the other hand, has a more slender body type and a softer, silkier coat. These cats boast an elongated head shape and slightly smaller ears than other Russian Blues. If you're looking for a cat with a sleek and elegant appearance, the British line may be your ideal choice.
Lastly, the American line produces cats with a medium-length body type and a silky but dense coat. They have a more angular head shape and larger ears than their British counterparts. If you're seeking a unique-looking cat that stands out from the crowd, an American line Russian Blue may be perfect for you.
It's important to note that while breed lines are important to consider, there are other factors that contribute to a cat's value. Age, health, and pedigree are all significant considerations when adopting a new pet. However, no matter which breed line you choose or how much your furry friend costs, their true value lies in the love and companionship they provide to you and your family.
How to Determine the Value of a Russian Blue Cat
If you're looking to determine the value of a Russian Blue cat, there are several factors to consider. As an expert in this field, I can tell you that pedigree, age, gender, physical appearance, and breeder/seller reputation all play a crucial role.
Firstly, pedigree is a major factor in the value of a Russian Blue cat. A cat with a strong pedigree and championship bloodlines will be worth more than one without. This means that if the cat's ancestors were champions in shows, it could increase its value significantly.
Age and gender are also important factors when determining the value of a Russian Blue cat. Kittens are generally less expensive than adult cats because they have more years of life left and are more likely to be healthy and active. However, an adult Russian Blue with good training may be more valuable than a high-priced kitten. Males are typically worth more than females due to their larger size and assertive personalities.
The physical appearance of a Russian Blue cat is also crucial in determining its value. A Russian Blue with a dense, plush coat that is free of matting or knots will be worth more than one with a thinner or less attractive coat. Eye color, ear shape, and overall body structure are also taken into account when evaluating a cat's value.
Lastly, the location and reputation of the breeder or seller can impact the price of the Russian Blue. Breeders who are well-known for producing healthy, high-quality cats will be able to command higher prices than those who do not have a strong reputation.
Where to Find Reputable Breeders or Pet Stores Selling Russian Blue Cats
It is crucial that you find a reputable breeder or pet store to ensure that your new companion is healthy and well-cared-for. As an expert in the world of Russian Blue cats, I have compiled some tips to guide you in your search.
First and foremost, it is important to find an ethical breeder or store that provides proper veterinary care, socialization, and a healthy environment for their animals.
You can start by checking with breed clubs or associations such as The International Cat Association (TICA) or the Cat Fanciers' Association (CFA), both of which have breeder referral programs to connect you with responsible breeders in your area. By going through these organizations, you can be confident that the breeder is reputable and takes good care of their cats.
Another option is to search online for breeders or pet stores specializing in Russian Blue cats. However, be wary of scams and unethical breeders. Take the time to research and read reviews before making any purchases. Look for websites with customer reviews and high ratings from trustworthy sources.
Attending local cat shows or events where Russian Blue cats may be present is another great way to meet reputable breeders in person, ask questions, and observe how they interact with their cats. This allows you to determine if they provide a healthy environment for their animals before making a decision.
Remember, finding the perfect breeder or pet store may take some time, but it is worth it to ensure that you bring home a healthy and happy feline companion. Don't rush into any decisions; take the time to ask questions, read reviews, and meet breeders in person if possible.
Tips for Purchasing a Healthy and Well-Groomed Russian Blue Cat
If you're in the market for a Russian Blue cat, you want to ensure that you're bringing home a healthy and well-groomed pet. Here are some tips to follow:
Research breeders
Don't just buy from the first breeder you come across. Do your due diligence and research reputable breeders who prioritize their cats' health and wellbeing. Look for organizations like TICA or CFA that certify breeders.
Visit the breeder
Seeing the breeder's facilities in person can give you a better sense of how they care for their cats. If possible, observe the cats' living conditions and ask questions about their care.
Check health records
Ensure that the cat has received all necessary vaccinations and medical treatments by asking for health records. This can also include genetic testing results that may indicate any potential health issues.
Observe behavior
Spend time with the cat to gauge its temperament and personality. A healthy Russian Blue should be friendly, curious, and affectionate.
Check grooming
The Russian Blue's short fur requires minimal maintenance, but it's still essential to check for signs of neglect or poor grooming, such as matted fur or dirt in the ears or eyes.
Common Health Issues in Russian Blue Cats and How to Avoid Them
When it comes to owning a Russian Blue cat, it's important to know about the common health issues that can affect their wellbeing and lifespan. This breed may be known for their striking blue-grey coat and affectionate nature, but they are still prone to certain health concerns that require attention.
One of the most prevalent health issues in Russian Blue cats is dental disease. They have a higher risk of developing gum disease, which can cause tooth loss, pain, and even systemic infections if left untreated. To prevent this, establish a regular dental care routine for your cat. Brush their teeth with a pet-friendly toothpaste and provide them with dental chews or toys to help clean their teeth.
Another issue that can significantly impact your cat's health is obesity. Russian Blue cats tend to overeat and gain weight easily, which puts them at risk for health problems such as diabetes, joint issues, and heart disease. To avoid obesity in your cat, monitor their diet and provide regular exercise through playtime or walks on a leash.
In addition to these common issues, respiratory infections such as feline herpesvirus and calicivirus can also affect Russian Blue cats. These infections can cause symptoms such as sneezing, coughing, and nasal discharge and may require veterinary treatment. To reduce the risk of respiratory infections, keep your cat's environment clean and free of irritants like cigarette smoke or strong fragrances.
To ensure that your Russian Blue cat enjoys a long and healthy life, it's essential to be proactive in their healthcare. Schedule regular veterinary check-ups and maintain open communication with your veterinarian.
The Benefits of Owning a Russian Blue Cat
The Russian Blue cats are known for their striking blue-gray fur, bright green eyes, and lean bodies, but there's so much more to them than meets the eye.
One of the most significant benefits of owning a Russian Blue cat is their intelligence and trainability. They're quick learners and can easily be taught new tricks or behaviors, making them ideal pets for those who enjoy training and interacting with their furry friends.
But that's not all – Russian Blue cats are also incredibly affectionate and loving towards their owners. They thrive on attention and love nothing more than snuggling up for a good cuddle. If you're looking for a loyal and loving companion, a Russian Blue cat is an excellent choice.
Another benefit of owning a Russian Blue cat is that they're generally low maintenance. They have short, dense fur that requires minimal grooming, and they're healthy and easy to care for. This makes them perfect for busy pet owners who want a low-maintenance pet without compromising on love and companionship.
Furthermore, Russian Blue cats have calm and gentle personalities, making them excellent pets for apartment living or other small spaces where noise can be an issue. Plus, they're not prone to excessive meowing or other disruptive behaviors, which is always a plus.
Conclusion
After researching and analyzing the market, it's safe to say that a Russian Blue cat can range in price from $400 to $2,000 or more depending on various factors such as age, gender, pedigree, and location.
However, it's important to note that the cost of purchasing a cat is just the beginning of the financial commitment. Ongoing expenses such as food, litter, veterinary care and grooming must also be considered.
Ultimately, the worth of a Russian Blue cat goes beyond monetary value as they bring joy, companionship and love to their owners.