Maine Coons are not your average house cat. With their majestic appearance, gentle demeanor, and rich history, they're a breed that stands out in the world of domesticated felines. Originating from the state of Maine in the US, these cats have garnered a loyal following worldwide thanks to their unique features and charming personalities.
But what makes Maine Coons so fascinating? For starters, did you know they're one of the oldest cat breeds in North America? These cats have been around for over 400 years – possibly even predating the arrival of European settlers.
Their large size and bushy tails are also noteworthy features. While it's easy to assume they're purely for aesthetics, these traits actually serve a practical purpose. They help Maine Coons survive harsh weather conditions like those found in their native New England region.
And let's not forget about their social nature. Maine Coons are highly adaptable and make great companions for humans and other pets alike. It's no wonder why they've become such beloved pets around the world.
If you're a cat lover or simply interested in learning more about domesticated animals, then exploring the world of Maine Coons is an absolute must. With their rich history and unique traits, there's always something fascinating to discover about these regal felines. So come along on this journey with us as we delve deeper into the captivating world of Maine Coons.
Physical Characteristics of Maine Coons
Maine Coons are not your average domesticated cat breed – they are unique, fascinating, and awe-inspiring in many ways. Their physical characteristics, in particular, are what sets them apart from their feline counterparts. These cats are considered one of the largest domesticated breeds in the world, weighing up to 25 pounds and growing up to 16 inches tall.
But their size is only one of the many physical features that make them stand out. Maine Coons have a long, bushy tail that serves both as a balance and communication tool. Their ears are large and pointed, with tufts of fur on the tips, which give them an adorable and somewhat regal appearance. Their broad, muscular chest and rectangular head shape with high cheekbones add to their majestic look. And their eyes, usually large and round, can mesmerize anyone with their wide variety of colors ranging from green to gold.
One unique feature of Maine Coons is their thick, water-repellent coat that was originally developed to protect them from the harsh winters of their native Maine. The coat is soft and silky to the touch, with longer hair on their back, sides, and tail. The diversity of colors and patterns that Maine Coons come in are impressive – solid white, black, cream, red, blue, and tortoiseshell.
Another noteworthy physical trait of Maine Coons is their polydactylism – having extra toes on their paws. It often gives them a "mitten" or "snowshoe" appearance that makes them even more adorable than they already are. These extra toes don't necessarily affect a cat's ability to walk or run but make it easier for them to grip objects and climb.
Aside from their physical features, Maine Coons are known for their unique behaviors. They have impressive hunting instincts but are also friendly and affectionate with their owners. Their chirping sound is distinct from other cats, which they use to communicate with their owners and other cats.
Maine Coon Hunting Skills
Maine Coons are more than just fluffy felines with adorable chirps and playful personalities, they are also natural-born hunters with exceptional skills. These cats were originally bred as working cats on farms, and their hunting instincts have been honed over centuries. Here are some fascinating facts about Maine Coon hunting skills:
Stalking Technique:
One of the most intriguing aspects of Maine Coon hunting skills is their stalking technique. Unlike other cats that pounce on their prey, Maine Coons stalk their prey like a wild animal. This method allows them to get closer to their target without being detected. It's like watching a stealthy mini tiger in action.
Playing with Prey:
But the fun doesn't stop once they catch their prey. Maine Coons have been observed playing with their catch, tossing it around and batting it with their paws. It's as if they're showing off their skills and having fun at the same time.
Swimming and Fishing:
Maine Coons' hunting skills are not limited to land-based prey. They are also excellent swimmers and enjoy fishing. Their water-resistant fur helps them to swim easily, while their strong legs allow them to navigate through the water with ease. It's like they were born to be a part of the aquatic world as well.
Senses:
In addition to their unique hunting techniques, Maine Coons have incredible hearing and vision that make them even more effective hunters. They can pick up on the slightest sound or movement, which helps them to locate their prey quickly. It's like they have superpowers that make them an unstoppable force in the wild.
Unique Vocalizations of Maine Coons
Maine Coons are a breed of cat that stand out not only for their striking appearance but also for their unique vocalizations. As an expert on the subject, I can confirm that these cats have a wide range of sounds that they use to communicate with their owners and other feline friends.
Let's start with the purr, which is something every cat can do. However, Maine Coons take purring to a whole new level. Their purrs are deep and rumbling, almost resembling the roar of a lion. Not only can you hear it, but you can also feel the vibration when they're snuggled up next to you. It's a clear indication that your furry friend is content and relaxed.
Besides purring, Maine Coons are also known for their chirping sounds, which they use as a form of greeting or to get your attention. These high-pitched chirps can also be used to communicate with other cats in the household. Think of it as your cat saying "hello" or "hey, pay attention to me."
The meow of a Maine Coon is another distinguishing feature of this breed. Unlike traditional meows, these cats produce trilling or warbling sounds that are almost musical in nature. You'll notice that the pitch and tone of their meows can vary depending on the situation and what they're trying to convey.
One interesting fact about Maine Coon vocalizations is that these cats tend to be more talkative than other breeds. This may be due to their history as working cats on farms where they needed to communicate with their owners and other animals. Therefore, don't be surprised if your Maine Coon wants to have long conversations with you. They love to "talk" to their humans and express themselves through their vocalizations.
The History of Maine Coons
These cats have a fascinating history that spans centuries and is full of interesting theories.
One theory suggests that Maine Coons are descended from cats that traveled with Vikings to North America. Another theory proposes that they are the result of breeding between domestic cats and wild bobcats or lynx. However, the most widely accepted theory is that Maine Coons evolved through natural selection to adapt to the harsh climates of New England.
Maine Coons were first recognized as a distinct breed in the late 1800s, and their popularity quickly grew among farmers and fishermen due to their exceptional hunting skills. They were even called "working cats" for their ability to catch rodents and other pests on farms and ships.
However, as other breeds like Persians and Siamese cats rose in popularity during the early 1900s, Maine Coons began to decline in numbers. World War II also led to a decrease in cat breeding overall. But thanks to the unwavering dedication of breeders, Maine Coons made a comeback in the 1950s and have since become one of the most beloved cat breeds worldwide.
Today, Maine Coons are known for their affectionate personalities, intelligence, and striking appearance. They have adapted well to modern living and continue to capture hearts around the world.
Popularity of Maine Coons
These majestic felines have a fascinating history and unique characteristics that have captured the hearts of many.
Did you know that Maine Coons are the official state cat of Maine? This breed originated in the state and has been associated with it for centuries. Early settlers were so enamored with these cats that they were often referred to as "Maine cats." In 1994, the Maine Coon even graced a postage stamp in Maine. Talk about a proud moment.
But it's not just their history that makes them popular. Maine Coons are known for their impressive size and strength. These cats are one of the largest domestic breeds out there, with males weighing up to 18 pounds or more. Their muscular bodies and agile nature make them excellent hunters and climbers. Imagine having a gentle giant as a companion.
Aside from their physical attributes, Maine Coons have also gained popularity in recent years due to their friendly and sociable personalities. They are great family pets, getting along well with children and other animals. Their playful nature and love of attention make them a joy to be around. Plus, they're known for being talkative, so you'll never be lonely with a Maine Coon around.
And let's not forget about their success in cat shows. Maine Coons are recognized by many cat associations, including TICA, CFA, and GCCF. Their unique appearance and charming personality make them a favorite among judges and spectators alike. With their long flowing hair and fluffy tails, they're sure to turn heads.
Health Issues Common in Maine Coons
One of the most common health issues that Maine Coons experience is hip dysplasia. This genetic condition causes the hip joint to develop abnormally, leading to arthritis and pain. Owners should look out for signs such as limping or reluctance to jump or climb. Weight management, physical therapy, and surgery in severe cases are some of the treatment options available.
Another prevalent health issue in Maine Coons is hypertrophic cardiomyopathy (HCM), a heart condition where the walls of the heart thicken, making it difficult for the heart to pump blood effectively. Symptoms include lethargy, rapid breathing, and coughing. Veterinarians can diagnose HCM through an echocardiogram, while treatment options may include medications such as beta-blockers or ACE inhibitors.
Maine Coons may also be prone to polycystic kidney disease (PKD), a genetic condition where cysts form on the kidneys, causing symptoms such as increased thirst and urination, vomiting, and weight loss. Diagnosis is through blood tests or ultrasounds, and treatment options may include medications, diet changes, or even kidney transplant in severe cases.
Spinal muscular atrophy is another genetic condition that affects the muscles of the spine, while feline lower urinary tract disease (FLUTD) can cause painful urination and blockages in the urinary tract. Owners should watch out for these conditions' signs and seek veterinary care immediately.
Training and Socialization of Maine Coons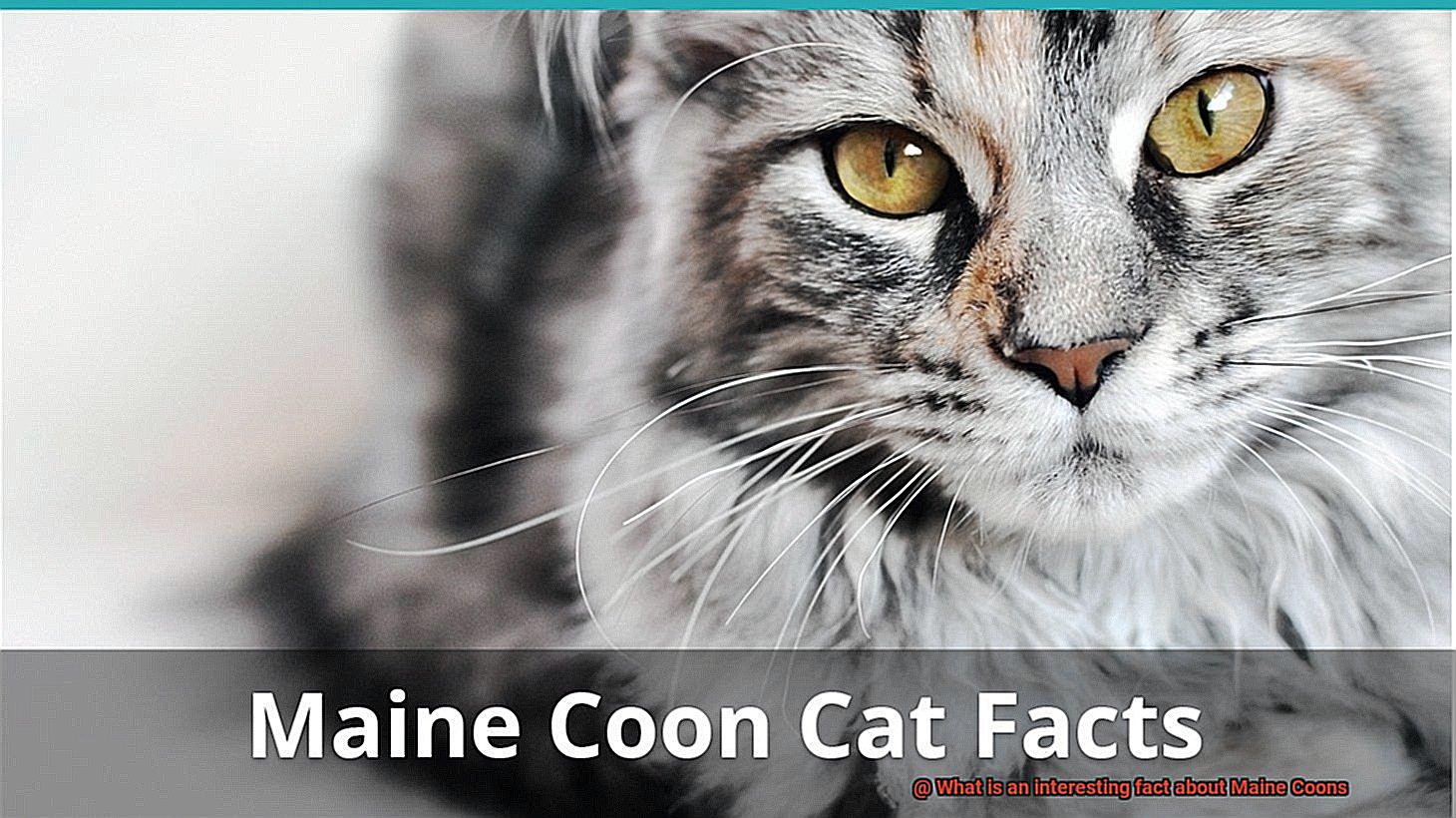 These gentle giants are renowned for their friendly and sociable personalities, making them ideal companions for households with children or other pets. However, even the most amiable felines need some degree of training and socialization to ensure they are well-behaved and content in their home environment.
Training a Maine Coon should commence early in their life, as kittens are more receptive to learning new behaviors and habits. Litter box training is a crucial aspect of training as it helps develop good habits. Providing a clean and accessible litter box and rewarding the cat for using it correctly will encourage them to continue this behavior. Teaching basic commands like "come" and "stay" can also be helpful in everyday situations.
Socialization is equally important for a Maine Coon's development. It involves exposing the cat to different people, animals, and environments to help them feel comfortable and confident in various situations. Positive reinforcement techniques, such as treats or toys, should be used consistently and patiently to encourage desirable behavior.
To ensure a happy and well-behaved Maine Coon, it's essential to note that training and socialization should never involve punishment or negative reinforcement. Such practices can lead to fear and aggression in a cat. Instead, use positive reinforcement techniques consistently and patiently to help the cat learn new behaviors and habits.
Here are some tips for successful training and socialization:
Begin training early in your Maine Coon's life.
Use positive reinforcement techniques consistently when teaching new behaviors.
Make sure the litter box is clean and easily accessible.
Reward your cat for using the litter box correctly.
Teach basic commands like "come" and "stay."
Expose your Maine Coon to different people, animals, and environments.
Use positive reinforcement techniques when socializing your cat.
Grooming Requirements for Maine Coons
If you're lucky enough to share your life with a magnificent Maine Coon cat, you'll already know that their thick, water-resistant coat is one of their most stunning features. But did you know that grooming this majestic coat is essential to maintain its shine and beauty? As an expert on grooming requirements for Maine Coons, let me guide you through the essentials of keeping your feline friend looking and feeling their best.
First and foremost, regular brushing is crucial to prevent matting and tangling of their fur. A high-quality brush will remove any dirt, debris, and loose hair from their coat while also distributing natural oils throughout their fur. This not only keeps their coat shiny and healthy but also prevents any uncomfortable skin conditions caused by matting.
Aside from brushing, periodic bathing with a cat-specific shampoo will help keep your Maine Coon's coat clean and prevent any skin irritations. However, it's vital not to over-bathe your cat as this can strip their fur of its natural oils.
Nail care is another essential aspect of grooming your Maine Coon. With large, sturdy claws that grow quickly, regular trimming is necessary to prevent any damage to furniture or flooring. Keeping their nails trimmed also reduces the risk of injury to both your cat and yourself.
Last but certainly not least, cleaning your Maine Coon's ears with a damp cotton ball or pad is essential to prevent the buildup of wax and debris. This buildup can lead to infections or other health problems, which can be painful for your cat.
In summary, grooming a Maine Coon requires regular brushing, periodic bathing, nail care, and ear cleaning. By following these simple steps, you can ensure that your cat's coat remains healthy and beautiful while also promoting their overall health and happiness.
Conclusion
In conclusion, Maine Coons are a captivating breed of cats that have won over the hearts of many. Their striking physical features and impressive hunting abilities, combined with their amiable personalities, make them truly exceptional felines. With a history spanning centuries, theories about their origins are intriguing and offer a glimpse into their storied past.
Today, Maine Coons are adored worldwide for their remarkable size and strength, as well as their affectionate nature. However, it's important to note that they can experience common health issues such as hip dysplasia, hypertrophic cardiomyopathy (HCM), polycystic kidney disease (PKD), spinal muscular atrophy, and feline lower urinary tract disease (FLUTD). Proper training and socialization are crucial in ensuring they are content in their home environment.
Grooming is also an essential aspect of caring for Maine Coons. Regular brushing, periodic bathing, nail care, and ear cleaning can help maintain their luscious coat while promoting overall health and happiness.
For cat enthusiasts or those simply curious about domesticated animals, exploring the world of Maine Coons is an absolute must.