Maine Coons are adorable and robust cats that have special characteristics that differentiate them from other breeds. One of the characteristic features is their large, rounded eyes that can be blue, gold, copper, green, and other strange colors.
They are intelligent felines that come from the United States, and despite their robust appearance, they are friendly and affectionate. They get along very well with humans and like to share with children and other pets. It is one of the largest cat breeds in the world with a thick, wild coat.
They love to spill and splash water in fountains and toilets and are generally called the dogs in the cat world.
There are different shades of gold when it comes to eye color, and owners often claim that their Maine Coon cat has yellow eyes. But is yellow a true eye color for Maine Coons? Many Maine Coon cats have yellow eyes, but it is a shade that more closely resembles the yellow of pale, bright gold.
Yellow eyes can vary in shades ranging from light to dark and are generally referred to as amber, gold, or copper. Below you will find all the information you need to know about the eye color of these adorable domestic felines.
Do all Maine Coon cats have yellow eyes?
Maine Coons cats are felines known for their large size and thick, wild fur. They have a stately and graceful appearance that all home pet owners love. Their eyes are large, their long tail, their physical structure are characteristic features of this breed.
The yellow-eyed Maine Coon name is sometimes used to describe cats of this breed with golden eyes. You should know that not all Maine Coons have yellow eyes; you can see them with blue, green, copper, and orange tones.
There are some Maine Coons cats that have heterochromia where they have one blue eye and the other a different color, and it is known as rare or strange eyes.
The eyes of purebred Maine Coons cats are large and slightly wide; the green and gold colors are considered beautiful by cat owners. The kittens of this breed are born with blue eyes, and as they age, they change the color of their eyes. The color of the eyes does not determine the eye problems of these cats.
These cats can have eye conditions such as nearsightedness, astigmatism, farsightedness, and strabismus.
Why are Maine Coon's yellow eyes different shades?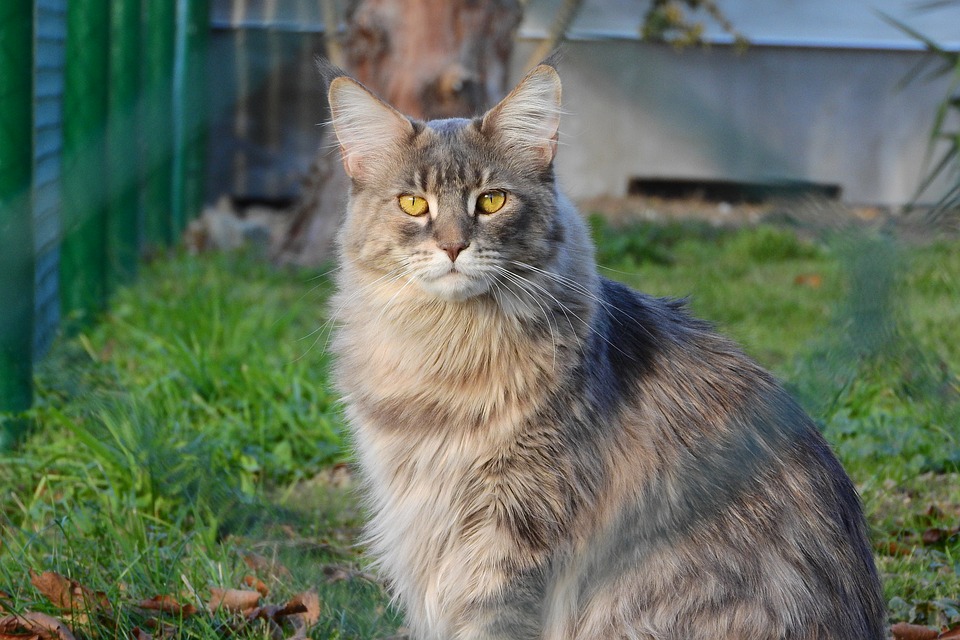 You should know that Maine Coons' eye and coat color is determined by melanin, a pigment produced by melanocytes. On the other hand, if they are purebred, their colors will be more intense.
If your Maine Coon has a low amount of melanocytes, his eye color will be pale yellow; this means that the more melanocytes your cat's iris have, the darker its color will be. If you have a medium amount, your cat's eye color will be bright gold.
Are yellow eyes rare in cats?
Maine Coons are domestic felines that can have different eye colors than other cat breeds. Some colors are breed-specific, and others can be found in many mixed and purebred cats.
As mentioned above, the color of the eyes will depend on the amount of melanin that may have passed into the genes of your father and mother. Melanin is also in charge of controlling pigment levels in your cat's coat.
All cats are born with blue eyes, and after several weeks, the eye color changes to their true eye color. By the time your cat is 12 weeks old, your cat's eye color will be fully developed.
Also Read: Maine Coon Eyes: Everything You Need to Know
What colors are Maine Coons eyes?
The Cat Hobbyists Association (CFA) indicates that the colors of the eyes are shades of gold, green, green – gold, copper, and blue.
There is no relationship between coat color and eye color; Maine Coons with black fur can have blue or strange eyes. This also happens with white Maine Coons; they can have strange eyes or blue eyes. Maine Coons can have the following colors:
Gold (they are the so-called yellow eyes of the Maine Coon)
blue
Green
Copper
Strange eyes (orange, amber,
The colors of the eyes are usually uniform and light; in general, Maine Coons with light tones can have spots when they reach old age.
On the other hand, the Maine Coons brindle or Tabby usually have some marks around the eyes that look like mascara. It is a dark line that runs from the outside of each eye and slopes down to just below the ears. It is a brand that looks like makeup; some seem made by eyeliner.
Also, if you suddenly notice that your pale-eyed cat has dark brown or yellow spots on one or both irises, you should take him to the vet as soon as possible. These spots can look like eye freckles; although some are harmless, they can also be iris melanosis, and this can cause iris melanoma.
A regular vet check-up can help you keep your domestic cats healthy. Iris melanoma is a common type of cancer that arises in the iris of cats. It is a more noticeable sign in cats with pale yellow eyes.
If you notice a strange symptom or sign, it is best to investigate and avoid health problems. Veterinarians are the professionals in charge of determining your cat's health; they will be able to offer you a detailed and complete diagnosis to find an optimal treatment. Control changes in your cat's eyes and don't risk your pet's health.
Conclusion
The yellow eyes of the Maine Coons are a way of naming and describing the cats of this breed that have bright golden eyes. The yellow or gold eye color is very common in these domestic felines, and they can have different shades of yellow.
One day your cat may wake up with bright yellow eyes; you should know that as the pupils of your cats are smaller, the color will become more fascinating and beautiful.
Many people think that light eyes are susceptible to certain diseases, but this is not true. Eye diseases have nothing to do with the colors of your eyes, they are common genetic problems in all breeds of domestic cats.
Experts say that Maine Coons do not have yellow eyes, but rather amber, gold or copper, but the eyes are yellow for owners of the fantastic Maine Coons cats. With a Maine Coon cat you will have a beautiful company that will accompany you at home and on every walk.